The company Zeinet&SSE pursues one clear purpose – to assist clients to improve the performance of their critical business assets
To improve reliability and reduce planned and unplanned downtime violating production and reduce profit, our company provides a wide range of proactive and interactive services, including solutions for optimization and modernization of the existing rotating equipment and plants through modernization of mechanical and control parts based on customer needs and preferences.
Qualified engineers of the company have vast experience in servicing and provision of engineering and technical solutions for the maintenance of the life cycle of gasturbine units.
Our company is a leading supplier of multipurpose solutions with maintenance experience for rotating equipment from global OEM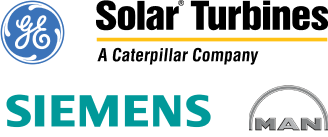 The capabilities of the company are not limited only to maintenance services but include both the restorative repair parts of gas turbine units and the supply of new spare parts.
Maintenance and repair work at GTU No. 1, 4, 5, 6, and 7 Turbo Compressor Shop - No. 4 Compressor Station "Opornaya" (Park of 7 units of GTU MAN THM-1304)
Open in PDF
Maintenance of assemblies of GPU-10-01 CS "Redut", CS "Taiman", CS "Akkol" (Park of 18 units of GTU with marine engine DR-59L)
Open in PDF
Relocation of the 3 units of GTU Solar Turbines Titan-130 from compressor station"Makat" to the new compressor station "Karaozek" and maintenance of units ТM-1, ТM-2, ТM-3
Open in PDF